Most recent article about me by Melissa Mendonca
in the Redding paper for my upcoming show in Red Bluff
Articles on me put out by the Laguna Festival of Art
Building Bridges Through Time with Photography
http://www.foapom.com/news/index.asp
http://www.sparkoc.com/event/detail/440249311
www.lagunabeachindependent.com/news/2009/0220/arts_ent/034.html
is the most incredible wordsmith and performer
of his own work as well as others..
you can actually hear his soul when he speaks
...

GET THIS BOOK!!!!
I am so thoroughly enjoying reading and re-reading, I cannot recommend it enough. There are poems, lyrics and a self-interview that I am swooning over - his talent with words is mind boggling, down and dirty roll around in it - cerebral and visceral all at the same time. I LOVE this man's brain. I LOVE his wordcraftsmanship.
This is Tom Russell's website - a great singer songwriter and friend
http://www.tomrussell.com
Here he is singing one of my favorite songs of his on Letterman
featuring the great Andrew Hardin on geetar
and even though it's so not fair for him to have so many talents
here's some of his art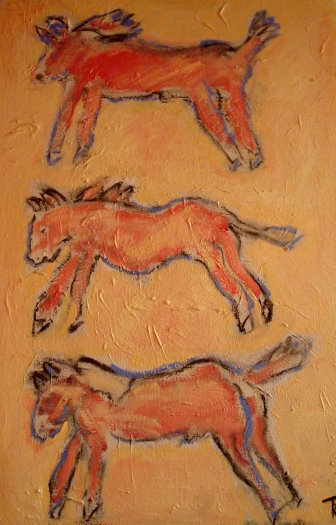 if they weren't so freaking big -
'course I'd have to wait for the money barge to arrive
See more at the Rainbow Man in Santa Fe
Here is my sister Jill's website - she is a FABULOUS watercolor artist!!
http://www.rosoffartworks.com/